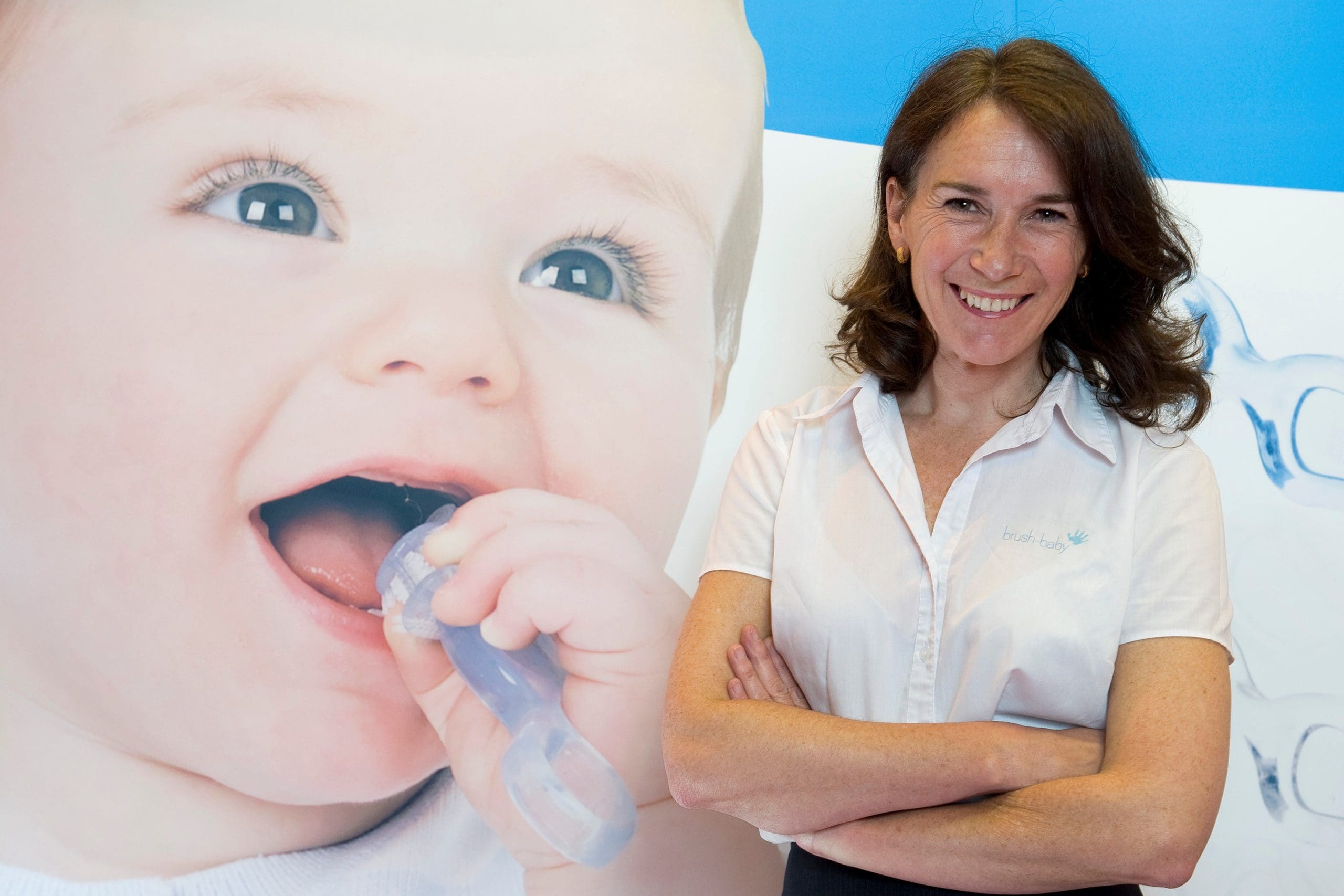 04 Mar 2021 / Loans
Time Finance Boost Brush-Baby Business
Time Finance are delighted to announce they have supported entrepreneur Dominique Tillen with a £125,000 facility under the Coronavirus Business Interruption Loan Scheme (CBILS) to boost her business, Brush-Baby, during the covid-19 pandemic.
In 2007, Dominique saw a gap in the market to empower parents to look after their children's dental health and make toothbrushing time fun. As a mother looking to tackle her own daughter's teething troubles, she designed and developed a chewable toothbrush. From that success, an internationally selling and award-winning business was born. Brush-Baby specialise in early years toothcare and their innovative products help parents give their children good foundations for lifelong healthy teeth. Now manufacturing over 25 teething and toothcare kits and accessories for babies, toddlers and children of all ages, Brush-Baby stocks the shelves of high street retailers, dental practices, and online marketplaces.
When the pandemic enforced lockdowns across the world, the business faced disruption in their manufacturing operations based in China, with further impact on sales from the closure of shopping outlets and high-street stores. With adaptation and innovation second nature to Dominique, she remained determined to get her popular products back into parents reach. She turned to financial intermediary Moorgate Finance, who sit on Time Finance's panel of brokers, for support. Together the two funding partners packaged a £125,000 CBILS Loan to bolster the Brush-Baby business and support their continued growth during this time.
Alun Winter, Head of Loans at Time Finance, said: "It was a pleasure to support Brush-Baby, which is a fantastic success story of innovation and growth. For any business, access to funding during these challenging times is vital. Our CBILS facility will help support Dominique continue to manufacture and expand her product range. We look forward to watching her business continue to adapt and grow through covid-19 and beyond."
Dominique Tillen, Founder and Managing Director of Brush-Baby, added: "Despite the challenges we've faced in the last 12 months, we want to continue innovating and growing our business where possible. Securing a CBILS loan has been critical in getting our business back on track and supporting the launch of our first re-chargeable range of electric toothbrushes. It's a really exciting time for us and we really believe our new 'WildOnes' range will be a popular hit amongst our growing customer bases. We can't thank Moorgate Finance for the introduction to Time Finance enough."
David Fry, Senior Account Manager at Moorgate Finance, said: "Brush-Baby was a fantastic client to work with. Once I had spoken with Dominique to understand her business, I knew that Time Finance would be the perfect lender for Brush-Baby. I have partnered with Time Finance for several of my clients, and they have always delivered exceptional service. So, I knew Brush-Baby's application was in safe hands."
Time Finance plc is an AIM-listed business specialising in the provision or arrangement of funding solutions to UK businesses seeking to access the finance they need to realise their growth plans. UK Businesses can take advantage of an extensive portfolio comprising: Asset Finance, Invoice Finance, Loans and Vehicle Finance. Since the beginning of the covid-19 crisis, Time Finance has been working hard to help its customers through this turbulent period. The launch of the CBILS offering is another opportunity for the company to instil reassurance and confidence back into British business through Asset Finance and Loan facilities.