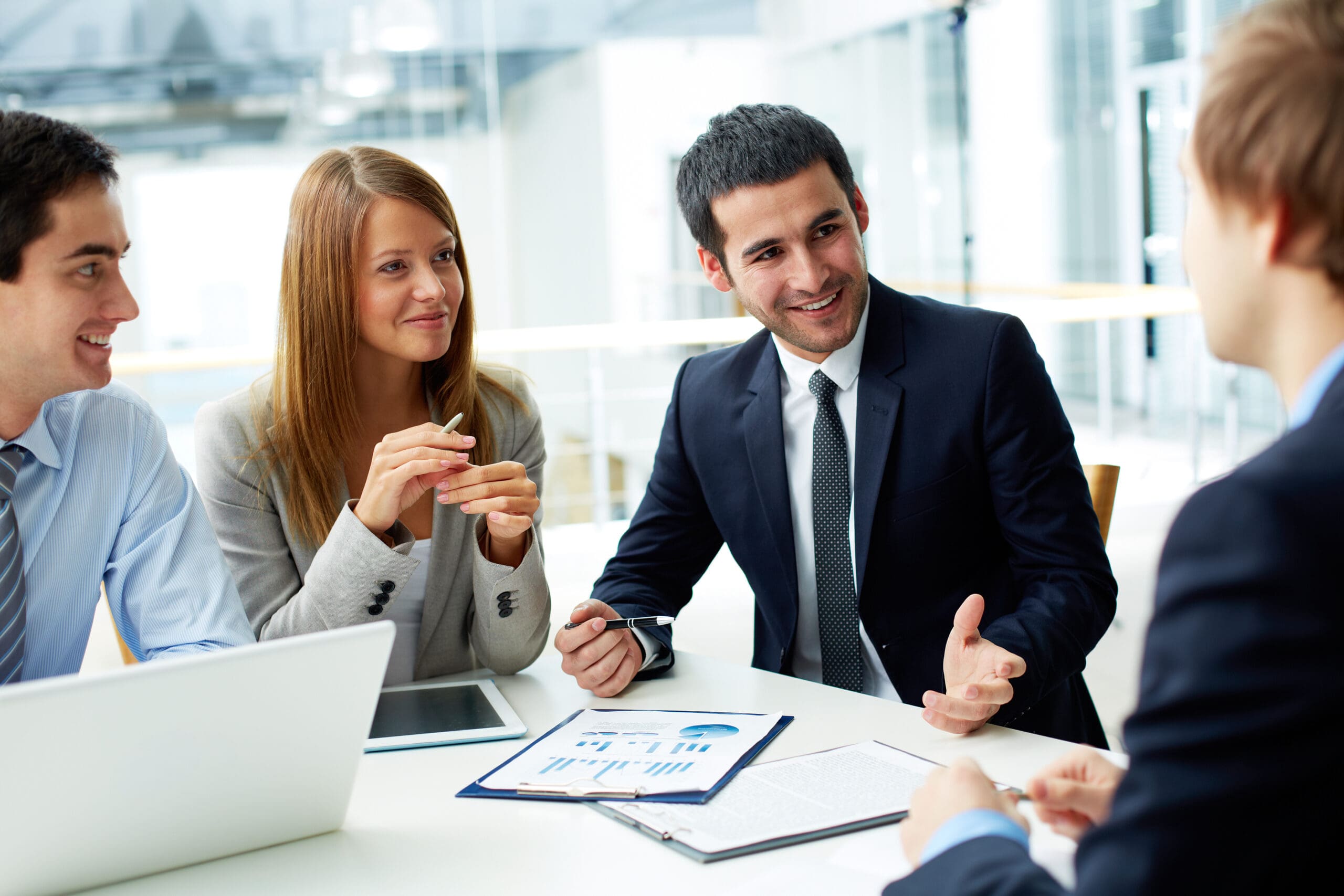 09 Nov 2023 / Uncategorized
National Career Development Month; The importance of building a network around you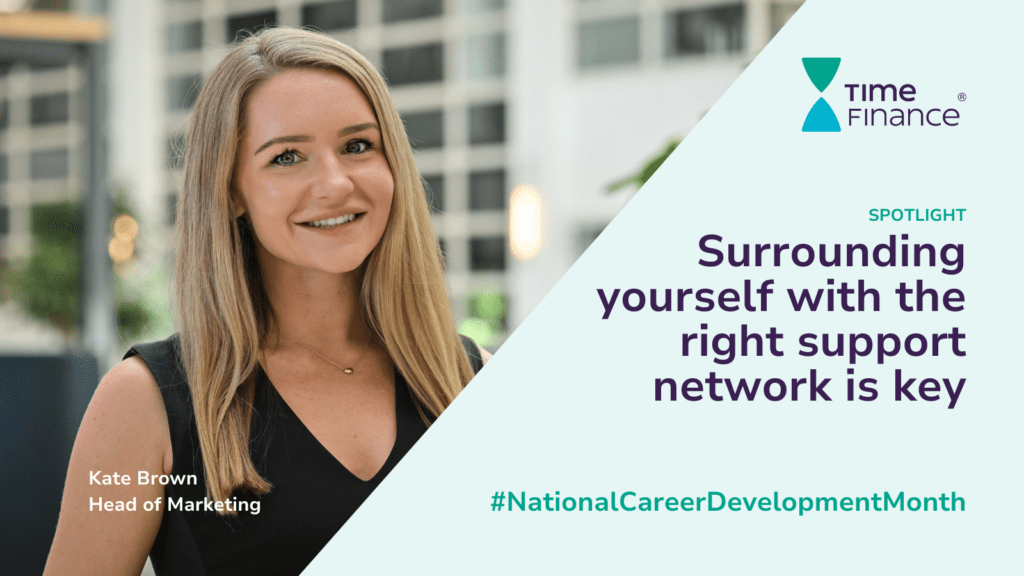 'Having someone notice something in you and believe in you makes all the difference'
Whether you're completely new to finance, putting down roots in the industry or are decades into a flourishing career, professional development is a constant journey. This National Career Development Month, we're reflecting on the variety of career opportunities in finance and the many different paths to success. We caught up with Kate Brown, our Head of Marketing, to hear about her career journey.
When did you join Time Finance and what was your position when you joined?
I joined Time Finance very early on into my career as a Marketing Executive back in 2018. At that time, I'd recently finished my Psychology degree and completed a Marketing qualification with the Chartered Institute of Marketing. I had been working as a Marketing Assistant at an accountancy firm in Sheffield and was looking to take on a new challenge as I relocated back to Manchester.
The business at that time was formerly known as 1pm plc and was at the beginning of what would be a very ambitious, but rewarding journey. They were at the end of a buy and build strategy and was gearing up to invest in its brand and proposition to market. This teed up a brilliant opportunity for me to have a real involvement in the evolution of the business and grow alongside what would become 'Time Finance' over the next five years.
What has your career journey been with Time Finance and what is your current position?
I've always loved the world of marketing, but I felt my studies never gave me the practical and hands-on experience I was yearning for. When I joined Time Finance the business was growing and changing and that meant that my day-to-day was fast paced and really exciting. As I learned more about the business and naturally stepped up to new responsibilities, my role evolved as 1PM's rebrand to Time Finance rolled out.
I was promoted to Brand and PR Manager in 2020 at a time when I was very hands on with the rebrand. I had a natural specialism in all things relating to our brand, our tone of voice, the look and feel and our PR. I demonstrated my capability and had a real appetite for opportunity, which was recognised by the business.
This then led to a more managerial role, and in 2022 I stepped up to the role of Head of Marketing. It had always been an ambition of mine to build a strategy, nurture and manage a team and lead on all aspects of our marketing strategy. Time Finance really allowed me to bring that ambition to life.
As Head of Marketing, tell us about your experience working in finance.
You'd think that not coming from a finance background was a barrier but for me this really wasn't the case. I was lucky to come from a family who have a strong background in finance, working at some of the UK's largest Banks, and that certainly helped me to feel comfortable in the industry very quickly and someone to turn to at home if I had any questions.
But even so, I knew it was important to do what I could to build up a strong commercial awareness and really invest my time into becoming an expert in the business. I was resourceful in my learning; I joined every meeting I could, shadowed colleagues and absorbed as much as possible from other people.
Everyone around me was always so supportive. My colleagues wanted me to learn and they wanted me to do well, and that is one of the best things about our business culture. Time Finance encourages you to ask questions, but also gives autonomy to learn and succeed.
What do you enjoy most about working in finance and Time Finance specifically?
We all want each other to do well and the business is always moving, which presents a lot of opportunity. I'm always looking to the future – trying to identify what we can do differently and how we can stay ahead of the game. The team I have around me is absolutely key to that - I've especially enjoyed bringing in new team members and partnering with external agencies who really believe in what we're trying to achieve.
More recently, as a business we have focused a key part of our strategy around our Environmental, Social and Governance (ESG) and Corporate Social Responsibility (CSR) commitments. Giving back is a big passion of mine, and I've loved being involved in developing our strategies and bringing new ideas to the table on how we can make a difference.
Have you undertaken any formal training while at Time Finance?
In 2020, I was elected onto Time Finance's first Talent Leadership Programme, an initiative designed to develop the next generation of future leaders.
As part of that, I benefited from internal mentoring from board members as well as careers guidance with external counsellors. All of this has been invaluable in giving me the confidence to prepare myself for the next stage in my career.
Are you involved in any professional networks?
I try to be as involved in as many professional communities as I can. I believe the network you have around you is key.
As a Committee Member at Manchester Young Professionals, I support the team in organising and hosting events that connect and support young professionals across the city. More recently, I became one of the founding members of The Social Collective, which was set up by the same founders of Manchester Young Professionals but is designed to bring together leaders, founders and entrepreneurs, essentially those who are at the next stage of their career and would benefit from the next level of networking.
Outside of this, I'm also involved with the EY Foundation, a brilliant charity designed to help young people from underprivileged backgrounds understand and build a rewarding career within the corporate world. I've always been passionate about supporting people from all backgrounds and experiences and using my own experiences to have a positive impact is really rewarding.
What are your other passions?
Health and wellbeing is a huge focus of mine and something I'm really passionate about outside of work. As a runner (a very recent hobby of mine) I really enjoy setting myself new challenges and pushing the boundaries of what I can achieve. Last month, I ran my first half marathon in Manchester at a new PB of 01:42 and in doing so raised a phenomenal £1,600 for our charity of the year, Tommy's, which I'm hugely proud of. I now set myself a new ambitious goal of training for the Tokyo Marathon in March!
Are you involved in the professional development of others?
Yes, and this is something I really care about. Having been on the receiving end of some incredible support over the years, I try to do whatever I can to give back. As well as being involved in the development of my own team and welcoming the chance to be a sounding board or offer guidance whenever it's needed, I've also been involved in Manchester Young Professionals' mentoring programme.
What's the best career advice you've ever received?
I'm fortunate to have been surrounded by some very inspirational people in my career. The piece of advice that really sticks with me is "having someone notice something in you and believe in you makes all the difference". I know what value this has had on me and my career and I can only hope that I can have the same impact on someone else one day.